Hair Loss Treatments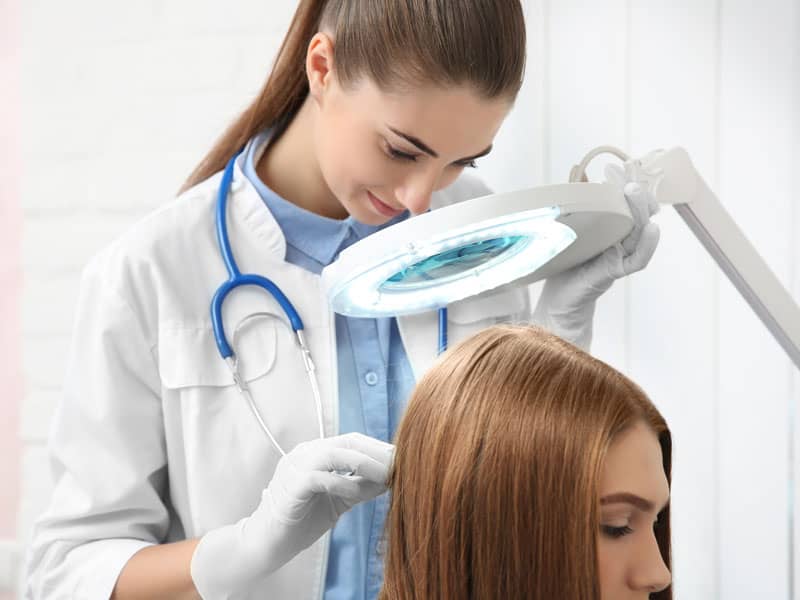 At The Hair Clinic we offer a free consultation to determine which treatment will be most beneficial to achieve your goals and expectations.
Very early stages of hair loss can be controlled with just medication, whilst more advanced hair loss can be improved with laser treatment and medication (including Vasodilatory, and DHT blocking medication)
If you are at an advanced stage of hair loss where the follicle has already died, then surgery will be necessary to replace lost hair.
LLLT Laser Treatment
LLLT is an extremely effective, totally safe and pain free treatment with no side effects for hair loss and was approved by the FDA over a decade ago.
How does it work?
LLLT works by utilising Non Thermogenic laser light to stimulate hair follicles and help with cell growth. The laser uses a precise wavelength which is absorbed by the hair follicles at molecular level increasing the production of ATP for faster hair growth. LLLT combats hair loss and thickens existing hair. It is mainly used for Androgenic Alopecia but can also be highly effective for other hair loss conditions.
In clinical trials conducted in the US LLLT treatment stopped hair loss in 85% of patients and 55% of patients saw new hair regrowth.
LLLT treatment CANNOT regrow hair on bald areas where the follicle is not present, therefore it is imperative to start treatment as soon as possible. It usually takes between 3-6 months before patients start noticing results with the best results seen after 9-12 months.
FUE Surgery
A hair follicle can contain one, two or three hairs. During surgery the hairs will be seperated and the single hairs will be used to enhance the front hairline (single hairs are used so that the procedure produces an undetectable appearance). The double and treble hairs are used behind the front hairline and around the crown to give the maximum density possible.
FUE surgery involves taking individual hairs from the donor area at the back of the head and re distributing the follicles to the bald areas. Hair from the back of the scalp is not susceptible to DHT so the newly transplanted hairs will grow as they used to at the back of the head. This procedure is minimally invasive and virtually pain free.
The technique has brought about a revolution in hair transplant surgery and earned an impressive reputation for the team at the clinic where innovative treatments go hand in hand with the highest level of care. For most people with significant hair loss, 1-2 operations per bald area can give a natural looking head of hair of reasonable density.
FAQ
Please click a question below to expand:
Yes. It lasts a lifetime for most people when the procedure is done correctly. We simply re-distribute existing permanent hair which is not prone to miniaturisation to your thinning areas as needed. We guarantee that 95% of the grafts will grow permanent hair.
Yes. Carefully performed hair root microsurgery looks very natural and totally undetectable - with single hair-grafting a natural-looking hairline is easily attainable.
No. The procedure is performed under local anaesthetic and donor and recipient sites are totally frozen and de-sensitised. You will experience a discomfort when the anaesthetic is initially applied. During the procedure, you may choose to watch TV, listen to music, read a book or you may want to take a nap. Some patients experience mild discomfort one or two days after the operation that is easily controlled with medication.
When performed by skilled surgeons, hair root microsurgery will only be detected by thorough expert examination. The donor site however will have a very fine scar completely hidden by your hair. The art of micro grafting is to conceal the art.
For most people, little or no time off work is required. You will be able to wear a hat immediately after surgery. But if you are very concerned about anyone knowing, then its probably best to have your surgery just before a few day's holiday. The sun will not damage your grafts, but obviously you need to avoid sun burning your scalp.
No. There is no need for bandages.
New hair will start to grow after 3-4 months following surgery. However, it usually takes 9 to 12 months for the new hair to reach maturity.
This technique enables us to harvest the maximum number of healthy roots that the donor strip can offer. The grafts containing the healthy hair roots are then blended in amongst the thinning or balding areas in such a way as to match all the original growth characteristics of your original scalp.
These slits are made with custom needles using precision depth control. The small site from where the donor strip was taken is simply closed with dissolving sutures during the treatment and immediately covered by your surrounding hair. It normally heals in a very fine line scar in amongst your permanent hair.
The procedure is very clean and no dressings or bandages are required. Within half an hour of the end of the treatment session you can be on your way home. The grafts stay securely in the slits because the congealed blood within each slit acts like a 'biological' glue. Each treatment takes approximately 2-5 hours and the procedure is simple and involves only minor discomfort when applying the anaesthetic. Each aspect of your treatment is dealt with utilising the skill and experience of our vastly experienced team.
From the day of treatment it takes approximately 3 months for your new hair to start to grow and then it simply grows at your natural rate of growth (normally 1 inch per month).
Hence it will take about 6-7 months after the procedure before you have substantial amounts of hair re-growth, resulting in a gradual change of appearance. Your new hair continues to mature in colour and texture for up to a year after surgery.
This technique can effectively soften the appearance of obvious old plugs and restore a natural hairline, especially in individuals with very dark hair. The problem with plugs or punch-grafts is too many hairs per graft accompanied by large spaces in between. This mostly happens because the patient did not return for more surgery to fill the gaps.
Partial re-distribution involves removing part of the plug and relocating this part in the empty gap. The aim, and the eventual result, is a more even distribution of hair with fewer hairs per group and much smaller spaces in between. It may be desirable to completely remove the plugs and re-position them.
Get in touch
with us today
to book your
free consultation